Prepaid Card
The NBQ Prepaid Card is a convenient alternative to carrying cash, and safer to carry while on the move
A convenient alternative to carrying cash. Safe to carry whilst on the move.
NBQ VISA Prepaid Card Service
The NBQ Prepaid Card is a convenient alternative to carrying cash and safer to carry while on the move. Your Prepaid Card can be used just like a debit or credit card, at all your favorite places like malls, restaurants, and cinema, and you can also use it at the ATM to withdraw cash if you need. It's also a handy way of managing your family's cash allowances!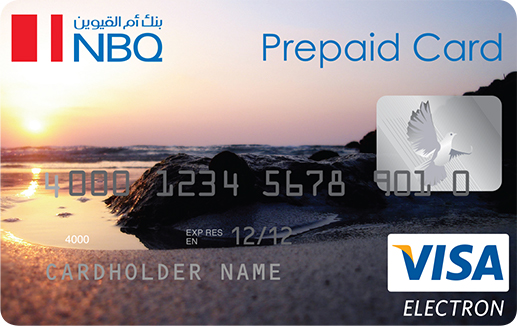 Features and Benefits
Easy to get started - just load your Card at any of our Branches, and start spending
Can be used at millions of shops and outlets accepting VISA cards all over the world
You can use it online for your online shopping purchases
Benefit from special VISA offers, discounts and promotions
Can help you manage your expenses and keep your budget on track
No monthly repayments or salary transfers needed
Reduces the risks associated with carrying cash
---
Eligibility
To all residents and UAE national
---
Documents Required
Your Emirates ID and passport copy. for expats residence visa copy.
An application form, which is available at the nearest branch to you.
Terms & Conditions will Apply.
---