24 Jan 2023
National Bank of Umm Al Quwain partners with UAQ Chamber of Commerce & Industry
National Bank of Umm Al Quwain partners with UAQ Chamber of Commerce & Industry to assist its clients in opening business accounts and provide other exclusive banking products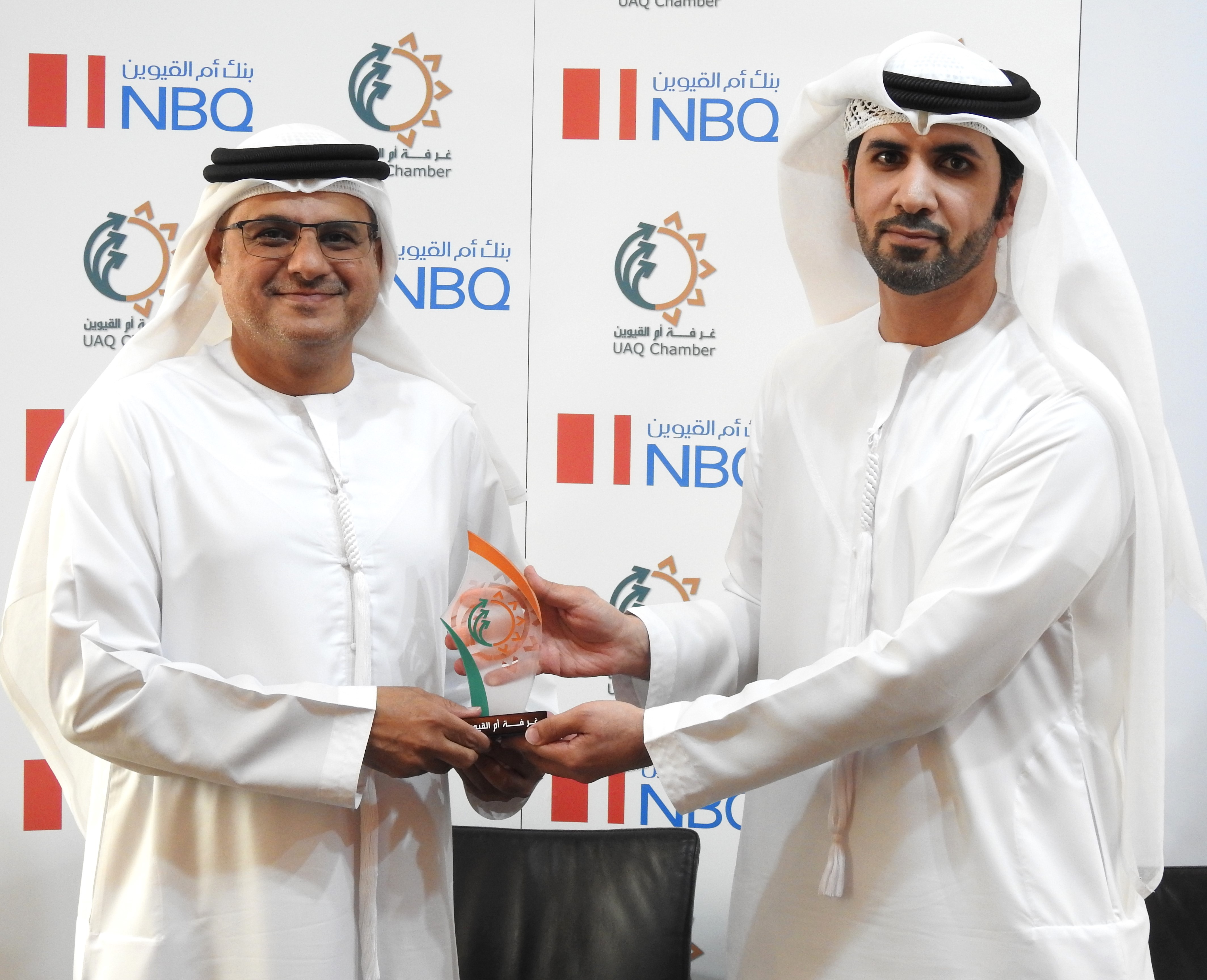 The National Bank of Umm Al Quwain (NBQ) today announced the signing of a Memorandum of Understanding (MOU) with the UAQ Chamber of Commerce and Industry to enhance joint cooperation in local entrepreneurship for the economic development of the Emirate of Umm Al Quwain.
The MoU was signed at the Chamber's headquarters in Umm Al Quwain, by Mr. Adnan Al Awadhi, CEO of NBQ and His Excellency Amar Rashid Al Aleeli, Director-General of UAQ Chamber of Commerce and Industry.
As per the MOU, all Chamber clients will have the provision for special banking services from NBQ, including opening business accounts, project financing and other banking facilities. From its side, the Chamber will communicate with all its new and existing clients and urge them to leverage NBQ's offerings to enhance their business and progress further.
As per the MoU, bank employees can open commercial accounts for Chamber clients following the internal guidelines of NBQ and the scheduled charges stipulated on the website of NBQ. All other banking products will be referred to the fulfilment team within the Bank.
During the signing ceremony, Mr. Adnan Al Awadhi expressed his pride in the collaboration between NBQ and the UAQ Chamber of Commerce and Industry, which reflects the future vision of the Emirate of Umm Al Quwain in providing a stimulating work environment and suitable solutions for business growth and development. Emphasizing NBQ's continuous keenness to provide the best leading banking products and services for companies and individuals, Adnan Al-Awadhi said: "The agreement provides a distinguished package of services for corporate and individual banking for the Chamber's clients, whether for opening commercial accounts or financing SME projects. UAE nationals can avail of working capital, invoice discounting and clean facilities/financing, among other benefits that are specially designed for Chamber clients, in accordance with the MOU.
His Excellency Amar Rashid Al Aleeli, Director-General of UAQ Chamber of Commerce and Industry, said the agreement with NBQ is a progressive step towards supporting the business community and providing various banking solutions for its growth and development. "The MoU reflects the forward-looking vision and approach of the UAQ Chamber of Commerce and Industry, which focuses on attracting and developing business, providing pioneering services and applying international best practices in customer service and facilitating banking transactions. This agreement plays an important role in promoting and facilitating business for SMEs and meeting the banking needs of individuals," said HE. Amar Rashid Al Aleeli.
Further provisions of the MoU have a package of benefits for SMEs, including a competitive interest rate with a flexible repayment period, best quotes on fixed deposits, waiver of minimum balance maintenance fees and online banking fund transfers.
In addition, the agreement provides customers with several other benefits, including a company account with no minimum balance requirement, free online banking services, a free Visa Gold credit card, Wage Protection System (WPS) payroll card for employees at competitive rates, easy payment plan for credit card purchases and other benefits.