Infinite Credit Card
Exclusive invitation-only card with a higher spending limit and special privileges
Exclusive invitation-only card with a higher spending limit and special privileges
Infinite Credit Card
The NBQ Infinite Card is an invitation-only credit card with special privileges, including Priority Pass airport lounge access, travel insurance, and hotel and travel discounts. It comes with a higher spending limit than our other cards, and up to 55 days free credit.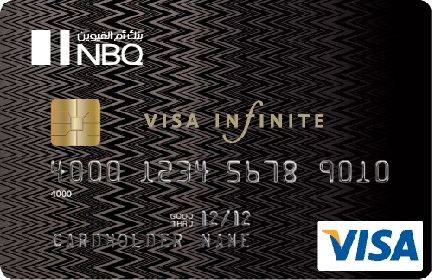 Features and Benefits
Higher credit limits with cash withdrawals allowed up to 90% of your credit limit
Free credit for up to 55 days
Ability to transfer your balance from other banks to your NBQ Card & repay your purchases in easy instalment payment plan (EPP).
1 Free additional supplementary card for your family member
Priority Pass & Priority Traveler gives you worldwide access to over 700 Airport Lounge as well as hotel and travel discounts, and savings of up to 50% at major Golf courses worldwide.
NBQ VISA Credit Card Special Offers
Purchase Protection with extended warranty
Multi-Trip Travel Insurance
24/7 Concierge services
Other VISA benefits exclusively for Infinite cards
Credit Card Payment options of (5%, 10%, and 100%) **
Verified by Visa protects you from fraud and gives you extra peace of mind when using your NBQ visa card for online shopping
For full details of all the Visa Infinite benefits and offers please visit https://ae.visamiddleeast.com/pay-with-visa/find-a-card/infinite.html
** Card Holders can make the monthly payment through NBQ's branches and Cash Deposit Machines, Online banking and mobile Banking & at any of UAE Exchange, Al Ansari Exchange & Al Fardan Exchange located across UAE.
Verified by Visa (VbV) - Now you can shop with added security and extra peace of mind for online transactions. Verified by Visa is a password-protected authentication system designed to confirm the identity of the cardholder when a Visa card is used online
Al Faris
NBQ offers premium banking for you to experience personalised services that suit your interest and requirements.
Read more
Fees and Charges
Annual subscription fee will apply
By Invitation-only.
---
Documents Required
Copy of Emirates ID and passport
Other documents may be requested at the discretion of the Bank
Terms and conditions apply.