Multicurrency Prepaid Card
Multicurrency Prepaid Card is the safest cost effective way to carry foreign currencies while travelling
Multicurrency Prepaid Card is the safest cost effective way to carry foreign currencies while travelling.
Multicurrency Prepaid Card
Multicurrency Prepaid Card is the safest cost effective way to carry foreign currencies while travelling.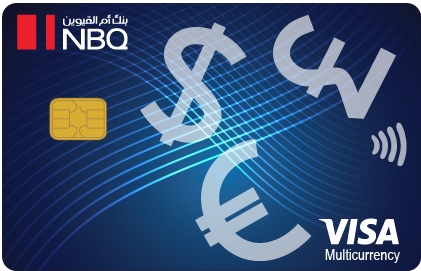 Features and Benefits
Tap & Go, with new Contactless Card
Avail your free card along with additional free services such as first time load, online reload and card renewal
Use your card without PIN for amounts up to AED 500/-
Load all or any of your favorite currencies on a single card (AED, USD, GBP & EUR) and lock your exchange rate on foreign currency
Funds must first be loaded in UAE currency wallet, and then transferred to other currency wallets of your choice
Conveniently reload your card through Mobile App and Online banking, or through all NBQ branches and ATM machines across UAE
Accepted at all VISA merchant outlets and locations globally
Enjoy secured spending with your online purchases
When travelling you can access all your accounts safely by using NBQ Mobile App and Online banking
Limits
Limits - NBQ Multi Currency Prepaid Cards
S.No
Description
Limits for MCX
1
Maximum amount that can be loaded in the card
AED 55,000 (USD 15,000)
2
Maximum Load Amount thru' Bank Account Transfer
AED 55,000 (USD 15,000)
3
Maximum Load Amount by Cash Deposit / Central bank Fund transfer system
AED 37,000 (USD 10,000)
4
Maxed funding through accounts & cash
AED 37,000 (USD 10,000)
5
Maximum Balance permitted in the card
AED 55,000 (USD 15,000)
6
Minimum load amount
AED 100 (if loaded at Branch) ; No minimum for Online Reload
7
Minimum ATM Withdrawal amount. (UAE)
AED 100
8
Maximum ATM Withdrawal amount
AED 10,000 within UAE
AED 5,000 internationally or equivalent in USD
---
---
Eligibility
To all residents and UAE national
---
Frequently Asked Questions
The new and FREE NBQ Multi-Currency card is a prepaid card that lets you carry up to 4 currencies and helps you avoid currency rate fluctuations and cross currency charges for the wallet currencies

It's safe, versatile, and it's a global card. You could choose your preferred currency for transactions which saves any exchange loss.

No. You can apply for the card even if you are not working or employed.

No. Customers can apply for the MCX card without having an NBQ bank account.

NBQ MCX Card is now available to all customers and non-customers of NBQ. Just visit any NBQ Branch across UAE to apply and collect your FREE card.

Multi-Currency Prepaid Card Application
CIF & KYC Document for all new to bank customers, and for guardian, in case of minor
Valid copy of Emirates ID
Valid copy of Passport (Minor & Guardian, if applicable) for Expatriates
Valid copy of Residence Visa for Expatriates

Customers can apply for 1 Card in their name and up to 5 additional Cards for their family members.

Yes.

Yes, the card needs to be activated before using it

Yes, you can change the PIN on your Card anytime by calling our 24-hour Call Center 600 56 56 56 from the comfort of your home or at any NBQ ATM machine. To generate PIN through NBQ ATM, first Customer should call IVR and generate the OTP.

Cardholders must first load the UAE dirham currency Wallet and from the dirham wallet transfer to your favourite currency Wallet of USD, GBP and EURO.

Currently, the customers can load up to 4 currencies: - AED, USD, GBP, EUR

Yes, you can transfer the amount from one currency wallet to another. The charges will be applicable on foreign exchange when transferring from one currency wallet to another.

Yes, you can load and lock in the exchange rate at the time of loading in all currencies

Once you load your MCX card with funds you can use it anywhere to pay for goods and services at all merchants like any other Debit/Credit Cards, and use to withdraw money from ATM machines with VISA Acceptance mark. You can also use the card for online purchases & transactions safely and securely.

Yes, the Multi-Currency Card is reloadable, so you can use it for all your trips. Cardholders can load different currencies onto the MCX Card depending on where they are going.

Customers are able to conduct transactions such as view card account, load wallets and transfer funds between different currency wallets through NBQ Online Banking, Mobile App, and Branches.

All currency balances will be displayed. However, the total balance will be displayed in AED.

You should reload the Card with the required amount and use it.

You could use multiple channels to load your MCX Card:-

NBQ branches
NBQ Online or Mobile Banking (existing NBQ customers having individual Current or Savings account)
NBQ CDMs

Yes, AED 100/- if loaded though Branch. No minimum for Online reload.

The Maximum amount that can be loaded on the card is AED 55000, this is including the amount in all wallets.

Yes, but only up to the maximum allowed limit.

Yes. Minimum AED 100/- in UAE & Maximum USD 1,500 or equivalent as set by local ATM provider, whichever is lower.

Some merchants and ATM operators abroad give you the choice of paying in either local currency or your home currency (UAE Dirhams). If you choose to do your transaction in your home currency, this will result in the retailer or ATM operator levying an additional foreign exchange transaction fee on you as the Card will seek to transact in UAE Dirhams rather than the local currency.

If given the option, ALWAYS choose to pay in local currency e.g. in Paris choose Euros, – this will ensure you are not charged an additional foreign exchange transaction fee by the merchant or ATM operator.

If you have any queries about your MCX Card balances or you notice an unauthorized transaction, please notify our 24-hour Customer Service immediately by calling us at 600565656.

If you have a problem using NBQ Online Banking, Mobile Banking, ATMs and CDMs call NBQ Helpline at 600565656.

Call NBQ Call Center 600 56 56 56 or log into online and mobile banking to block the existing card and request for a replacement.

You need to contact our 24-hour Customer Service immediately on 600565656 to stop your card or block it through NBQ Online Banking Apps.

This should only happen if VISA Card is not accepted at that location; you are shopping in a restricted country; you don't have sufficient balance on the Card to cover the purchase or the merchant does not accept prepaid Cards. If the merchant supports, you can always use what money you have on your MCX Card to make a partial payment and then use another form of payment acceptable to the merchant for the remainder of the purchase.

A pre-authorisation is a hold over funds on your Card. A merchant such as a hotel or car hire company may estimate the cost of your bill and ask you to use a Card as guarantee. The merchant will then put a hold over the pre-authorised amount which you'll not be able to use to make transactions. Pre-authorisation can last for up to 30 days. NBQ does not recommend that you use your MCX Card for pre-authorisation. You can of course use your MCX Card to settle your final bill.

The Card is valid for 5 years as per expiry date printed on the card.

No. However, Card will become Inactive after 12 months and inactivity fee will be levied after 12 months.

Yes you can.

Through

NBQ Branches
24 hour Call Center
E-banking / Mobile Banking

Yes, the inactivity fee will be applicable when there will be no transaction for 12 consecutive months irrespective of balance available in the card.

To avoid this inactivity charge, you might do any of the followings:

Reload your MCX card in any of the 4 currencies
Use your MCX card locally in AED by loading your card AED wallet.
Conduct ATM withdrawal or online shopping transaction

Currently, there are no physical statements sent to the customers. However, you can check the transaction on the E-Banking / Mobile Banking App.

You can use this Card worldwide wherever the VISA Card is accepted, to withdraw cash from ATMs, POS transactions at merchants and online shopping.

Transactions other than Wallet Currencies will effect from AED wallet and a FCY exchange Fee will be levied
When Funds are moved from one currency wallet to another currency wallet on the Card.

For more information, request you to refer to the schedule of fees and charges on NBQ Website.

What happens when there is insufficient balance in a particular foreign currency wallet (USD / GBP / EUR) to complete the transaction?

If the customer does a foreign currency wallet transaction and if the respective wallet is short of funds, the system will automatically sweep in the required amount from AED wallet to respective foreign currency wallet to authorize the transaction. This is subject to the AED Wallet having sufficient funds to cover the transaction amount.

If the transaction in USD / EUR / GBP fall short of funds in respective wallet, the system will calculate the shortfall amount +1 in respective currency. This amount would be transferred from AED wallet automatically and system will authorize the transaction. All other fees and charges would remain the same.

Example:

Transaction Amount and currency: $125.00

Balance Available in the USD Wallet: $120.00

Amount Deficit for the transaction: $5.00

Amount that will be transferred to process such transaction: $6.00

After transfer the balance of the USD wallet: $126.00

In this scenario the transaction of $125.00 will be approved and $1.00 will be remained in the customers USD wallet.
---